Okay. Because I'm now morally certain, I'm going to go ahead and call the Bernardin-Bergoglio pectoral cross as an icon of the Antichrist. There's just too much evidence.
Mark Docherty has made a post at his place that is a compendium of everything about the Antichrist icon so far, with all of the pictures. It is a great resource to help spread the word on this.
Now that thousands and thousands of eyes are on this thing, several more horrifying motifs have been identified.
First, the animal on the far left is a swine. Look at the thickness of the body and especially the hindquarters. No sheep looks like that. That's a ham if ever I saw one. As Mark Docherty said, "I smell bacon." I smell bacon too. Definitely. Swine NEVER have any positive connotation in Scripture or iconography. In fact, because Our Lord cast the demons into the herd of swine, who then promptly committed suicide by running en masse off a cliff, swine have a very, very consistent tie to the demonic and to hell and damnation.
Next, the "grass". A lot of people think it looks more like flames. Especially since it goes ABOVE the animals. I agree. It subsumes the animals completely. They aren't standing upon it.
Finally, the tunic. A BUNCH of people emailed in about the tunic. Not only is there a phallus shape front and center, but the folds on the viewer's right look suspiciously like a hand grasping the phallus.
Now here is what is going to happen, so you're prepared. Any discussion of this will be the target of GASLIGHTING. "Mentally ill conspiracy theorists," "filthy-minded sex perverts," blah, blah, blah. You know yourself. Are you a filthy-minded sex pervert? Probably not. So don't be bothered by the GASLIGHTING. Are the things we have described either clearly visible (like the backwards-facing leg and the swine on the left) or sufficiently plausible as to factor into the calculus? Of course they are. DON'T FALL FOR GASLIGHTING.
Additionally, let's think tactically from the enemy's perspective for a moment. If you were Bernardin, an actual Satanist and infiltrator to the highest levels of the Catholic Church, wouldn't you get your kicks from wearing something, like this pectoral cross image, that contained satanic iconography, but at the same time was subtle enough for you to wear openly, mocking God and the faithful as you walked around, laughing interiorly at the "stupid rubes" who couldn't see what you were LITERALLY dangling in front of them? Of course. THAT'S THE ENTIRE POINT.
The backstory on Antipope Bergoglio's connection to this wretched thing as having originated with him doesn't check out. Bernardin was CLEARLY wearing this thing (the swine is just visible) before he ordained Wilton Gregory a bishop in ARSH 1983. We know this from THIS picture of Gregory emcee-ing Bernardin's Mass. Bishops don't emcee outside of Papal Masses.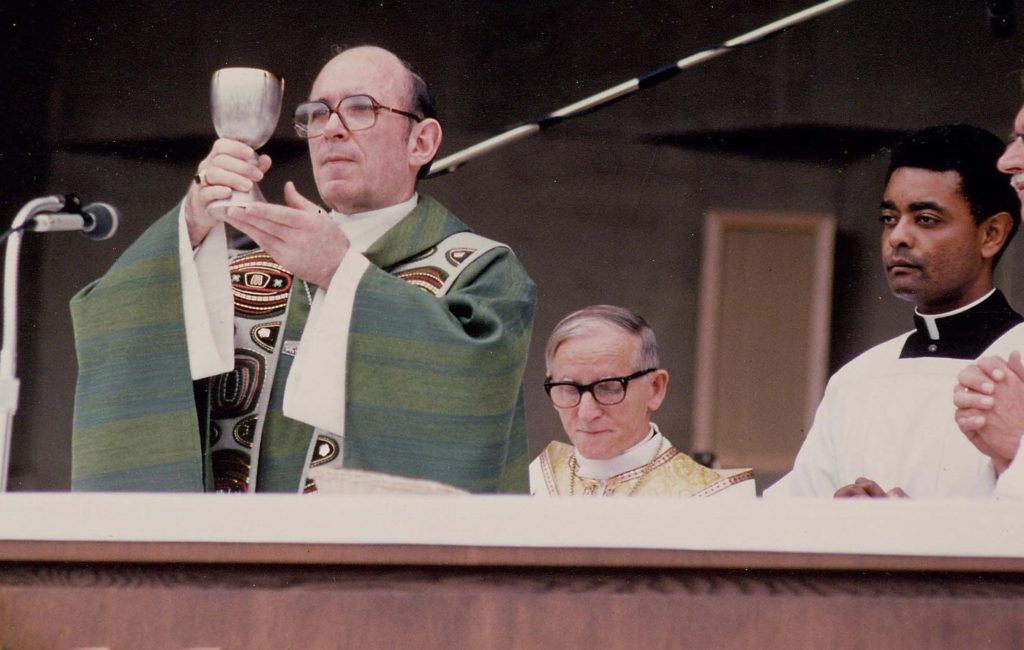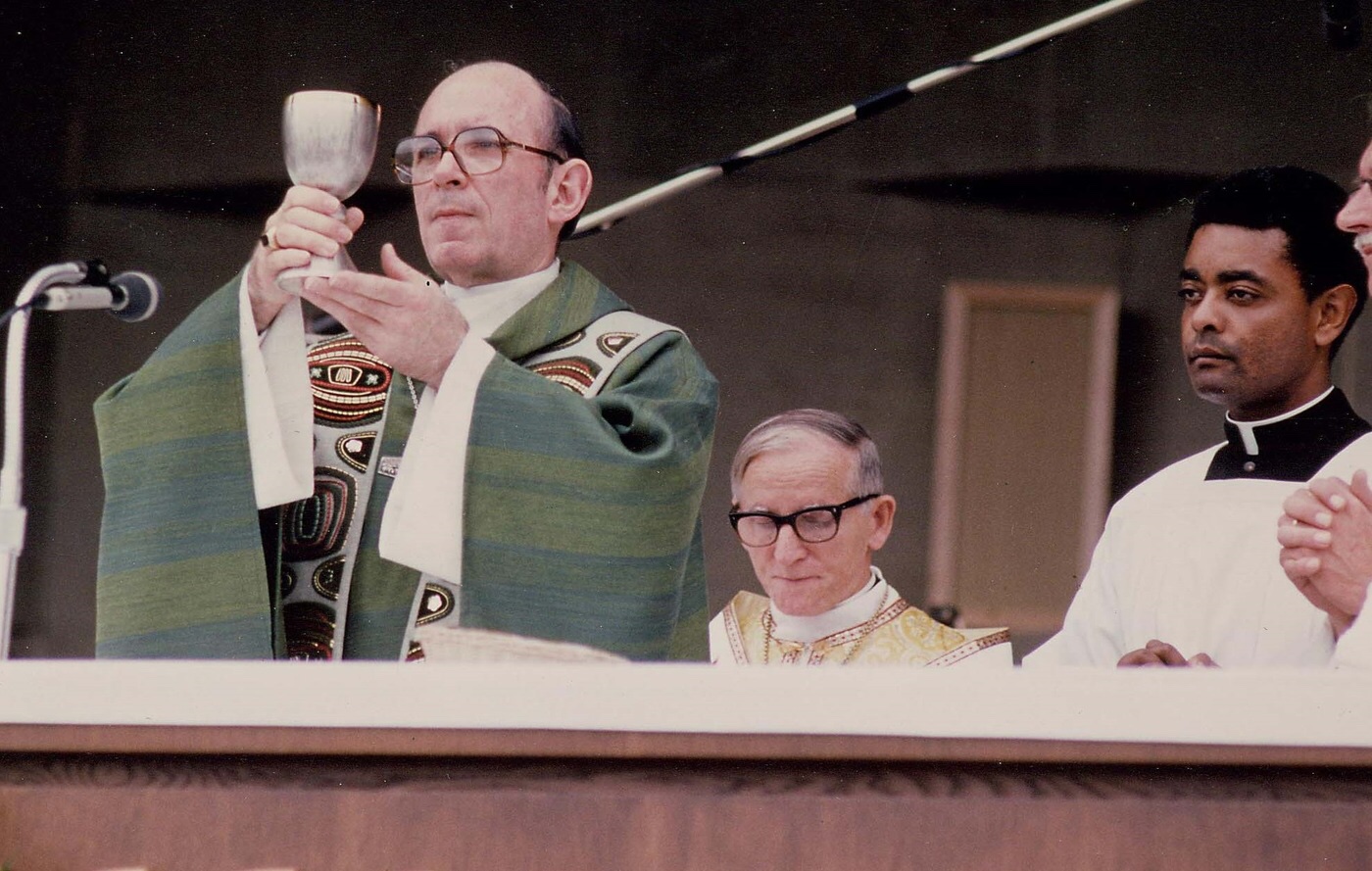 The "artist", whose signature is beneath the feet of the figure, was a sculptor from Genoa, Italy named Antonio Vedele. Vedele is the man who sculpted the image as a mold, which was then cast into metal. Apparently, Vedele, who died in ARSH 1997, passed the original mold to a student of his during the 1970s named Giuseppe Albrizzi who then cast more of them. Bergoglio started wearing his copy while Archbishop of Buenos Aires in the 1990s. But it is important to note that the Vedele Antichrist pectoral cross did NOT originate with Bergoglio in Buenos Aires, but was also worn for decades previously by the KNOWN SATANIST PEDOPHILE SODOMITE Cardinal Joseph Bernardin. I doubt Antipope Bergoglio's cross is Bernardin's, as Bernardin was probably buried with his in ARSH 1996. But they are absolutely the cast from the same Vedele mold. They are identical.
I can find nothing about Antonio Vedele except his dates (ARSH 1930-1997) and the fact that he was a sculptor, working mostly in silver, in Genoa.
WHAT TO DO IF YOU HAVE AN ICON OF THE ANTICHRIST/"POPE FRANCIS CROSS"
Folks, this icon of the Antichrist has been sold AGGRESSIVELY in many forms for the past eight years as "The Pope Francis Cross". It is sold as a pendant, keychain fob, and most sickeningly, it is used where the Crucifix should be on "Pope Francis Rosaries". ANYONE who has bought any Rosaries, especially souvenir Rosaries from Rome or any other pilgrimage site or church gift shop, needs to check and make sure this satanic image is NOT in their home. There are countless THOUSANDS of these things polluting the planet. Maybe millions.
FOLKS, THIS IS TOTALLY UNCHARTED TERRITORY. NEVER BEFORE IN HISTORY HAS ANYTHING LIKE THIS EVER HAPPENED, SO YES, WE NEED TO DEMONSTRATE INTELLECTUAL SELF-SUFFICIENCY IN THIS SITUATION AND UNDERSTAND THAT THERE IS NO PLAYBOOK FOR DESTROYING "OFFICIAL" SACRAMENTALS WITH SATANIC IMAGERY.
BECAUSE THIS HAS NEVER HAPPENED BEFORE.
IF you have an icon of the Antichrist under the "Pope Francis Cross" brand, here are instructions for disposing of it.
IF IT IS A ROSARY:
Break the rosary into pieces (metal clippers to break the chain) so that it is unusable as a Rosary. If you can, damage and deface the Antichrist icon portion specifically. Then, DISPOSE OF IT IN RUNNING WATER. For most people this means throwing it off a bridge.
Our Lady is not only not going to be offended by you destroying a Rosary with an icon of the Antichrist (and probably an image of the Antipope) on it, I'm sure she will be grateful. Just make sure you have another Rosary to use, and if your Rosary isn't blessed, GET IT BLESSED!
IF IT IS A PENDANT OR KEYCHAIN:
Deface and destroy it as best you can. If it is a silver pendant, consider asking a jeweler to melt it down. Then THROW WHATEVER IS LEFT INTO RUNNING WATER.
As always, I hope this helps.
Our Lady, Undoer of Knots, pray for us.
Lord Jesus Christ, the Good Shepherd, have mercy on us.