St. Raymond of Penafort was a Dominican who is basically THE father of Canon Law.
So, you can understand why we are especially, especially happy to celebrate his feast today, and beg his intercession, especially for any Canonists named "Raymond" that we might know of….
The Codex that St. Raymond assembled at the behest of Pope Gregory IX was essentially the codex that was in force from ARSH 1234 until the 1917 Code was promulgated.
Apparently, St. Raymond did a pretty good job. 😉
BUT, being the unlettered laywoman that I am, I can't but be delighted by St. Raymond's most famous miracle. Now, I want you to just stop and think in stillness about how brilliant and rigorous St. Raymond must have been, and then consider the veracity of what you are about to read. Do you think that a man like Raymond would have permitted a story like what you are about to read to spread like wildfire throughout the world, if it weren't true? 160 miles in six hours is an average speed of 27 mph. This is a block quote from Wiki: And, just to be sure everyone knows, "Moors" are musloids.
Raymond of Penyafort served as the confessor for King James I of Aragon, who was a loyal son of the Church but allowed his lustful desires to shackle him. While on the island of Majorca to initiate a campaign to help convert the Moors living there, the king brought his mistress with him. Raymond reproved the king and asked him repeatedly to dismiss his concubine. The king refused to do so. Finally, the saint told the king that he could remain with him no longer and made plans to leave for Barcelona. But the king forbade Raymond to leave the island, and threatened punishment to any ship captain who dared to take him. Saint Raymond then said to his Dominican companion, "Soon you will see how the King of Heaven will confound the wicked deeds of this earthly king and provide me with a ship!" They then went down to the seashore where Raymond took off his cappa (the long black cloak worn by Dominicans over the white tunic and scapular), and spread one end of it on the water while rigging the other end to his walking staff. Having thus formed a miniature mast, Raymond bid the other Dominican to hop on, but his companion, lacking the saint's faith, refused to do so. Then Raymond bid him farewell, and with the sign of the cross he pushed away from the shore and miraculously sailed away on his cloak. Skirting around the very boats that had forbidden him passage, the saint was seen by scores of sailors who shouted in astonishment and urged him on. Raymond sailed the ~160 miles to Barcelona in the space of six hours, where his landing was witnessed by a crowd of amazed spectators. In awe of this miracle, King James I renounced his evil ways, made penance, and thereafter led a good life.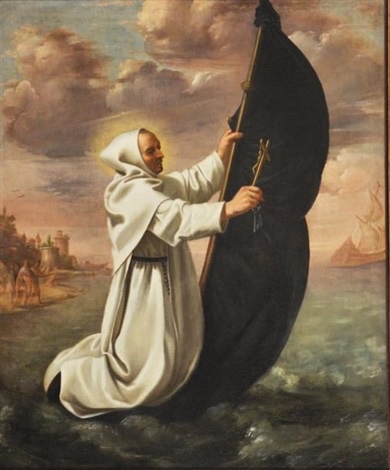 27 mph, baby! Evinrude, eat your heart out!!!