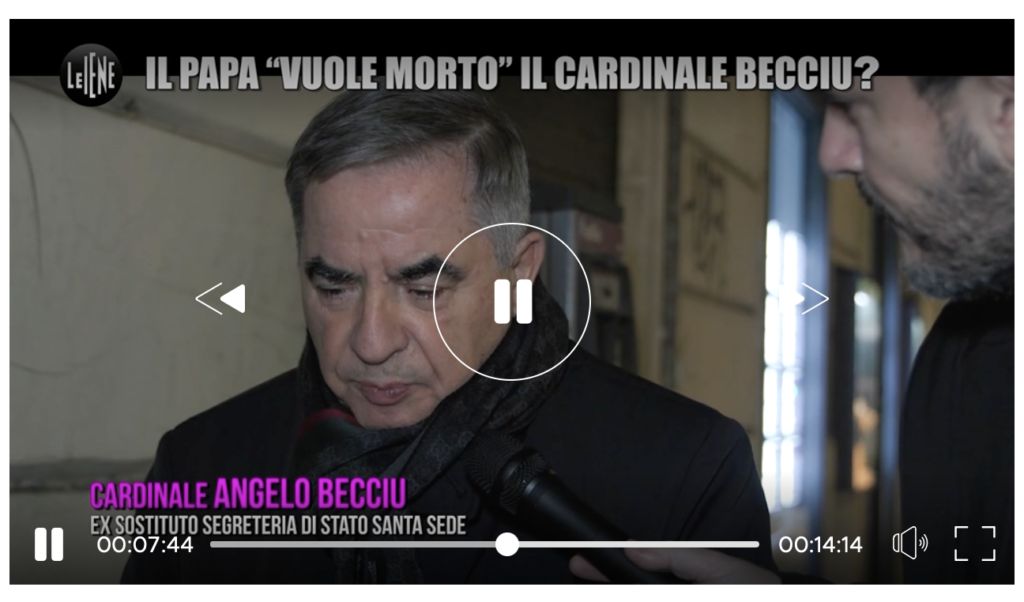 I can't embed this video, so you will have to click through to see it. The scene is this: ++ Angelo Becciu, who is the Deputy Secretary of State of the Vatican, and is up to his eyeballs in massive financial crimes WITH BERGOGLIO'S DIRECTION AND APPROVAL, is walking down the street and is approached by a reporter. The reporter is trying to ask ++Becciu about leaked text messages that ++Becciu sent to numerous people saying that "Francis wants me dead." This is true, since Antipope Bergoglio threw his boy ++Becciu under the bus when the massive money laundering and fraud was brought to public light – but it was all done with Bergoglio's explicit blessing, and Antipope Bergoglio specifically installed ++Becciu in the Vatican State Department in order to do Bergoglio's will.
Given the highly suspicious death of George Neumayr a few days ago, who also said numerous times within the past month, VERY publicly, that he felt his life to be in danger due to his investigative work on high-level institutional Church corruption, one pays attention to these things. And yes, I absolutely believe that the Peronist psychopath Bergoglio is MURDEROUS. He is openly implicated in political assassinations in Argentina, and there is also the Natacha Jaitt child sex trafficking whistleblowing affair from several years ago.
At the 7:40 timestamp, ++Becciu says this:
"Con la morte di Papa Benedetto, ecco, adesso abbiamo un papa, e questo è il papa della Chiesa. Noi dobbiamo amare questo papa, non possiamo sognare un papa del futuro o rimpiangere chi c'era prima."
"With the death of Pope Benedict, look, now we have one pope, and this pope is the Pope of the Church. We must love this pope, we can't dream about a future pope or miss (wax nostalgic over) who was (Pope) before."
This floated over my transom from an Italian priest, and I have run this clip past Italians to make sure that the nuance is being read properly, and they all say the same thing: ++Becciu is saying that Benedict was the Pope until he died. But now ++Becciu is embracing the false notion of Bergoglio being "grandfathered-in", which we all know is impossible since Bergoglio isn't Catholic.
The fact that Pope Benedict never validly resigned and remained the Pope until his death 23 days ago has been a quietly understood fact on the ground in Rome ON ALL SIDES, as ++Becciu demonstrates above. The only people who intransigently argue that "Fwanciss is definitely Pope" are the quintessence of what Lenin referred to as "useful idiots". The rest – left, right and center – have all stayed quiet due to FEAR. Fear of loss of income, career track, and/or human respect from saying out loud what everyone knows to be true, and acknowledge in whispered conversations.
Even the demons confess….