FOLKS.
All of this MonkeyPox crap was planned and "war-gamed" EXACTLY like the CoronaScam was, culminating with the final planning and logistics session on October 18, ARSH 2019 – "EVENT 201".
Here is the NTI document about the March 2021 Monkeypox planning session. THEY ALWAYS TELL YOU EXACTLY WHAT THEY'RE GOING TO DO. "Public manifestation" is a hallmark of high-level luciferians.
https://www.nti.org/wp-content/uploads/2021/11/NTI_Paper_BIO-TTX_Final.pdf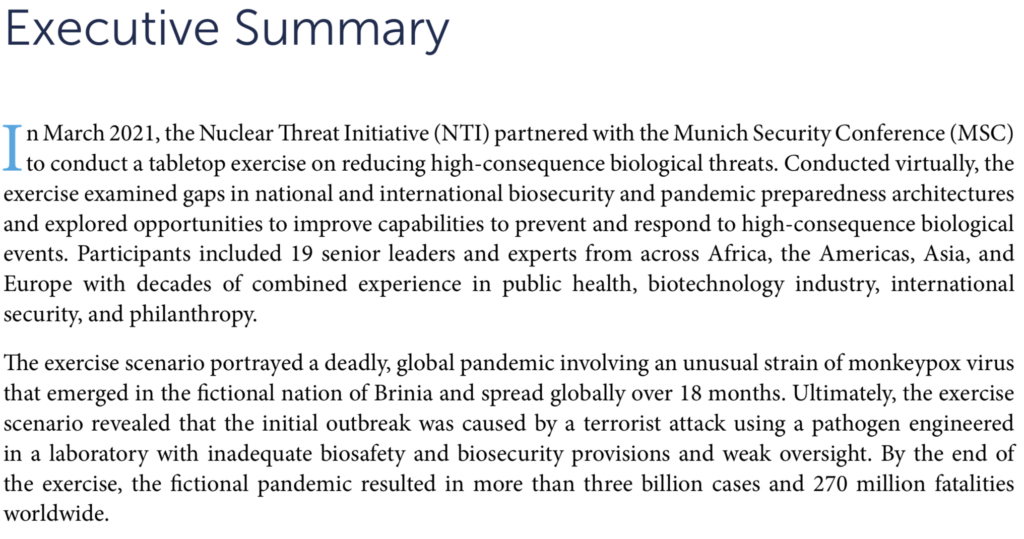 And here is a headline from Brietbart that is just hours old: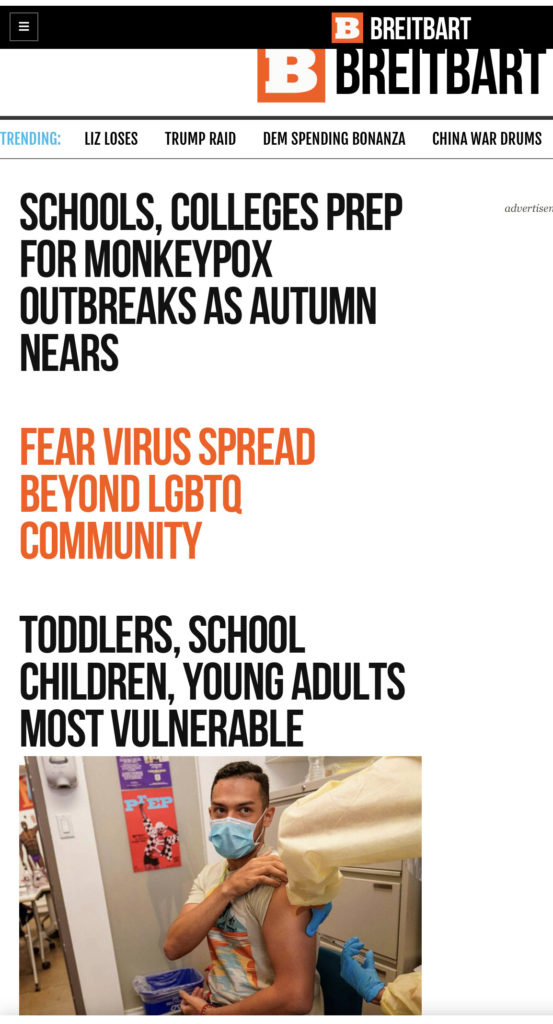 FOLKS, THE ENTIRE POINT OF THIS MONKEYPOX CHARADE IS TO GET MORE STERILANTS INJECTED INTO CHILDREN AND YOUNG ADULTS – PEOPLE WHO CAN OR WILL IN THE FUTURE POTENTIALLY REPRODUCE.
The CoronaScam is played out, and even minimally morally sane parents won't let their children anywhere near a Corona-branded injection at this point.
SO, a new con is needed to get as many potential breeders sterilized as possible. That's what the monkeypox is for.
THE FAGGOTS ARE PATSIES IN THE MONKEYPOX SCAM. MONKEYPOX WAS INTENTIONALLY INTRODUCED INTO THE BATHHOUSES OF EUROPE IN ORDER TO GET IT SPREAD AND INTO THE MEDIA. BUT THE POINT IS TO GET CHILDREN AND BREEDING AGE ADULTS INJECTED WITH EXACTLY THE SAME STERILANT POISON AS IS IN THE CORONA SHOTS, NOW UNDER THE GUISE OF "MONKEYPOX".
They KNOW the sterilizing effects of the Corona Shots work – HERE is a piece laying out the stunning, statistically impossible-to-be-random year-to-year 2021-2022 Q1 reductions in live births for Taiwan, Germany, Switzerland, the U.K. and the state of North Dakota.
I say again, THE MONKEYPOX SCAM IS A DRIVE TO GET MORE CHILDREN AND BREEDING-AGE ADULTS INJECTED WITH MORE STERILANTS. The Monkeypox injections may or may not contain killed monkeypox virus – that isn't even the point. Monkeypox itself is a total red herring. The point is that the injections – ALL INJECTIONS MARKETED AS "VACCINES" FROM NOW UNTIL A WAR IS FOUGHT AND THE NWO IS PHYSICALLY STOPPED AND REMOVED FROM THE EARTH – WILL CONTAIN EXACTLY THE SAME POISONS AND STERILANTS THAT THE CORONA SHOTS CONTAIN – BECAUSE…
HUMAN POPULATION REDUCTION IS THE ENTIRE POINT OF ALL OF THIS, EVER HAS BEEN, AND EVER WILL BE. FAGGOTS DON'T REPRODUCE, AND WOULDN'T EVEN NOTICE IF THEY HAD BEEN STERILIZED. THEY ARE JUST THE PATSIES IN THIS.
Just as children and young adults had statistically ZERO risk from the CoronaScam, so too does anyone who doesn't engage in acts of sodomy – acts so utterly vile that they can't be directly discussed – have any risk of getting the SodoPox – but children and young adults can and potentially would reproduce, and THAT is the target.
I suspect the intention of the NWO-Antichurch cabal is to eventually release Smallpox, which is highly lethal and leaves survivors physically disfigured, and will drive people in sheer desperation to "take the risk, because I have to or I'll die of smallpox" to get injected, and thus see nearly everyone on the planet either dead (not inoculated against smallpox) or sterilized (inoculated, but sterilized by the added substances which will now go into every "vaccine"), or already too old to reproduce anyway.
It's obvious.
Note how Gates has to clearly stifle SMILING at the 0:28 mark when he mentions a "terrorist" releasing Smallpox in an airport.
am i the only one who finds it odd that @BillGates mentioned a smallpox terror attack 11 days before some smallpox vials were found at a @Merck lab? 3 days later the @CDCgov confirmed they were mislabeled vaccineshttps://t.co/VRBTV2cCPL pic.twitter.com/bzsXpt8Z67

— $MPOX-Super-Spreader 🙉🦠🎉 (@MPOX_SS) July 17, 2022