No Pope has VALIDLY resigned since Pope Celestine V, St. Peter Celestine, in ARSH 1294. **** UPDATE and CORRECTION BELOW!! Pope Gregory XII is actually the most recent actual, valid resignation!!
Pope Benedict XVI visited his tomb twice, and left his Papal Pallium on Pope Celestine's tomb in what is now recognized as an unmistakable signal to his Freemason-sodomite enemies that he was planning on attempting to quit under their pressure. The problem (or glory of the Divine Providence) is that Pope Benedict's attempt to resign only the "ACTIVE GOVERNANCE OF THE CHURCH" while retaining "always and forever" the "spiritual ministry and mandate" of the Papacy, was totally, glaringly, obviously invalid. Hence his continuing to wear the Papal White, be called "His Holiness Pope Benedict", write documents and books confirming the brethren, et cetera, ET cetera, ET CETERA.
So, please pray the Matthew 17:20 Intention today WITH Pope St. Celestine V, Peter Celestine, who, I can assure you, is a GREAT advocate for the truth in regards to this situation of an invalid resignation and subsequent Antipapacy of the Freemason Bergoglio.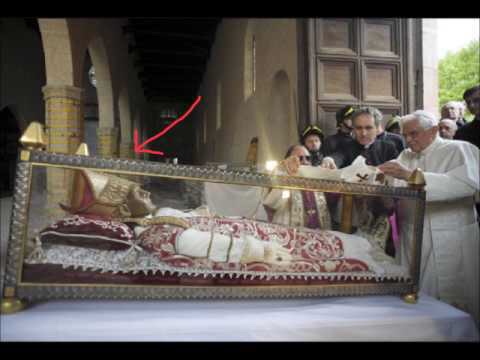 The Red Arrow indicates the first Pope to actually, validly resign. At right is the current Pope, whether he likes it or not, Pope Benedict XVI Ratzinger, the one and only living Pope since April ARSH 2005.
---
UPDATE!!
Over the transom…
19th May, MMXX A. D.
Feast of St Celestine V; St Dunstan; and St Ivo of Kermatin (Patron of Lawyers)
Greetings, Ann–
Thanks for all your work, but especially for having helped me to see back in 2016 that Benedict is the one, true and sole pope, a position "I have held and hold and publish, and that in which I mean to die."
(Belloc, Ballad to Our Lady of Czestachova). Since 2017, the Fatima centennial.
Just wanted to point out today that St Celestine was not the last pope to resign. He was the first to voluntarily resign, as his biography in Butler's Lives points out, that it was "unprecedented."
There is, however, one subsequent highly significant resignation, and this was by Gregory XII in July 1415 A. D. during the Council of Constance, which he had placed on a legal footing and thus legitimized as pope by papal bull of July 4, 1415 A. D. just before resigning. He stepped down willingly to resolve the Great Western Schism. I think you will enjoy the Catholic Encyclopedia entry on this, as it alludes to many topics relevant to this current mess we're in, from which this quotation (at newadvent.org):
"The Western Schism was thus at an end, after nearly forty years of disastrous life; one pope (Gregory XII) had voluntarily abdicated; another (John XXIII) had been suspended and then deposed, but had submitted in canonical form; the third claimant (Benedict XIII) was cut off from the body of the Church, 'a pope without a Church, a shepherd without a flock" (Hergenröther-Kirsch). It had come about that, whichever of the three claimants of the papacy was the legitimate successor of Peter, there reigned throughout the Church a universal uncertainty and an intolerable confusion, so that saints and scholars and upright souls were to be found in all three obediences.
On the principle that a doubtful pope is no pope, the Apostolic See appeared really vacant, and under the circumstances could not possibly be otherwise filled than by the action of a general council."
Among the saints who were backing the wrong horse was of course St Vincent Ferrer, contra your special patron the great St Catherine of Siena(!),* as also touched upon in the article and as you have fruitfully discussed in the past. And the man he defended, the indefatigable Pedro De Luna, "Benedict XIII," antipope, at least had several points in his favor unlike Bergoglio–first off he was Catholic. Second, he had guts, however misguided, and when deposed by the Council of Constance, even St Vincent having abandoned him to his stubbornness by that point, he repaid the favor and excommunicated the entire Council. He also made four more cardinals two days before he died circa 1422. I can recommend two great books on point if you are interested.
Anyway, happy feast. Let me try to get back to my actual work at being an honest lawyer, like St Ivo.
Best regards,
C