† Our Father, who art in heaven, hallowed be thy Name. Thy kingdom come. THY WILL BE DONE, on earth as it is in heaven. Give us this day our daily bread. And FORGIVE US OUR TRESPASSES, as we forgive those who trespass against us. And lead us not into temptation, but DELIVER US FROM EVIL.
For Thine is the kingdom and the power and the glory, forever and ever. Amen †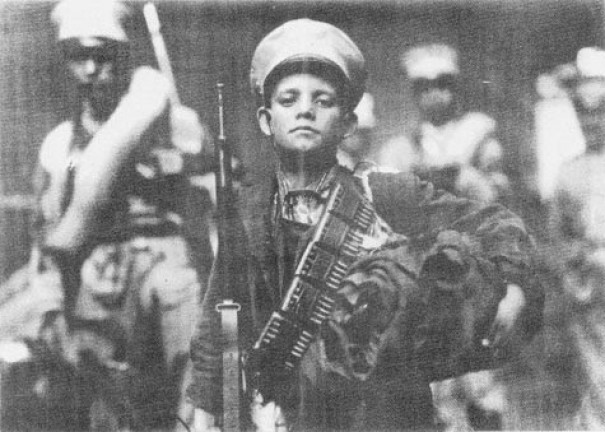 Blessed Jose Luis Sanchez del Rio, martyr of the Cristero War, manfully carrying his ASSAULT WEAPON and ammo belt.
The Cristeros nicknamed him Tarcisius, after the early Christian saint, martyred for protecting the Eucharist from desecration.
During heavy fighting on January 25, 1928, Gen. Pedroza's horse was killed, and Jose gave his horse to the general so that the battle could go on. Then he sought cover and fired at the enemy until he ran out of ammunition. The government troops captured the boy and imprisoned him in the sacristy of the local church.
Others recalled the gruesome events that transpired after the government's failure to break Jose's resolve on the evening of February 10, 1928: "Consequently they cut the bottom of his feet and obliged him to walk around the town toward the cemetery. They also at times cut him with a machete until he was bleeding from several wounds. He cried and moaned with pain, but he did not give in. At times they stopped him and said, 'If you shout, "Death to Christ the King" we will spare your life.' Jose would only shout, 'I will never give in. Viva Cristo Rey!'"
When they reached the place of execution, his captors stabbed him numerous times with bayonets. The commander was so furious that he pulled out his pistol and shot Jose. Moments before his death, the boy drew a cross in the dirt and kissed it.