This post is of the overarching theme, "THEY'RE ALL SODOMITES."
First, a quick review from ARSH 2018:
Orgies Don't Have "Presiders" – Satanic Black Masses Do.
Last week LifeSite News broke the news that Antipope Bergoglio's top aide, the revolting sodomite Cardinal Coccopalmerio, was not only present at the "cocaine-fueled gay orgy" in the apartment of his "personal secretary", Msgr. Luigi Capozzi in the palace of the Holy Office – the same building that houses not only the Congregation for the Doctrine of the Faith (which is responsible for investigating sex abuse cases), but also the Ecclesia Dei commission, which oversees all of the communities that celebrate the Traditional Mass -but that Coccopalmerio was "presiding" over the orgy and was whisked away to safety by the Vatican Gendarmerie who conducted the raid. And Antipope Bergoglio knows it.
I think a lot of people glazed over this story, as there was so much else going on both in Church events, and in secular events (Kavanaugh, Hurricane Michael, etc.). What I want to point out is the very telling use of the word "presiding". Coccopalmerio was not merely participating in the sodomite orgy, he was PRESIDING over it.
The word "orgy" implies a chaotic, disorganized activity. It can be used as a crude colloquialism for any large, disorganized activity or action. "The buffet dinner at the Greek wedding was a gastronomic orgy."
Folks, orgies, kinda by definition, don't have "presiders". It's a contradiction of terms. The word "presiding" communicates an organized, even ritualistic activity. A big trend among the Bergoglian Antichurch crowd is to call the priest at Mass "the presider".
Given what we know about the abject evil of Cardinal Coccopalmerio, the fact that he is a flaming faggot that hates God and is at war with Him and His Holy Church, and given that we know that the nexus of the practice of Satanism in the world today is inside the Vatican, I think it is not at all a stretch to postulate that what was raided in that apartment was not merely a sodomite orgy, but was a Black Mass with Cardinal Coccopalmerio as the "presider".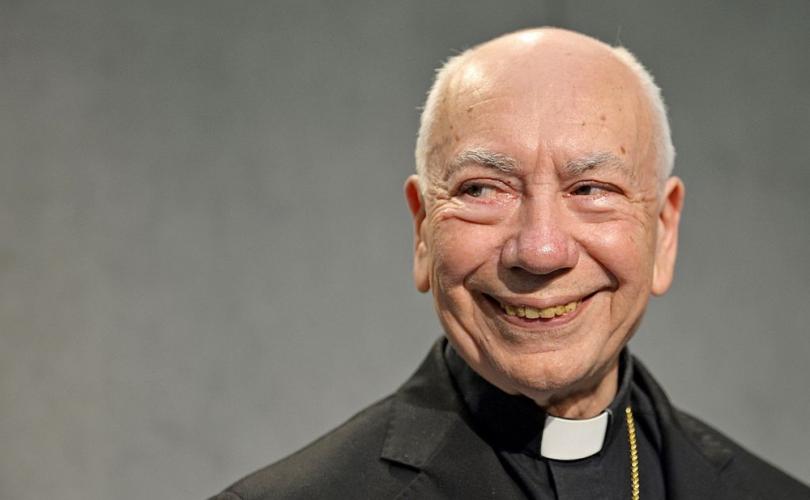 ---
Now, here's a gushing piece just published in the New York Times about a sodomite priest who was a Latinist in the Vatican for years, living it up on the Rome-Vatican clerical gay scene, who quit the priesthood and is now a militant Sodomy activist. He confirms what I've been screeching and caterwauling about for YEARS: the Vatican is a giant gay village. They're all fags.
But this sodomite, Lepore, drops another very interesting detail. He says that he attended drug-fueled "parties" as a gay man at the famous Benedictine abbey of Montecassino just south of Rome. Hmm. That rings a bell.
When he reached Rome in 2002 he got an entirely different education, he said, in a world of sexually active gay priests. He fell for a renowned Franciscan who had a bevy of young admirers and who dumped him five months later. "You never forget your first love," he said, with a shrug, adding, "Clearly all of this put me completely in crisis." ….
He entered the Vatican at age 27 and found himself surrounded by eccentric co-workers. The late Rev. Reginald Foster, a beloved Latinist from Milwaukee, was called "the gas station attendant" for his cheap blue jackets. Another Latinist had dated the Italian poet and filmmaker Pier Paolo Pasolini in his youth before becoming a priest and had a habit of screaming profanities. Mr. Lepore was in heaven, and every day at 11, he would pause from writing texts for popes to take tea and chat in Latin with his co-workers.
But the extracurricular activities proved distracting. "Inside the Vatican," he said, "it got worse."
He pursued relationships with priests and bishops, some of whom addressed one another with female terms of endearment, he said, like "bella." Others nicknamed one cardinal Platinette, after a famous Italian drag queen. Mr. Lepore became known, he said, as "the star of Hollywood" because he wore a Borsalino hat, cuff links and pocket watch….
He announced he would leave the priesthood altogether, and then spent four years, as he put it, in the wilderness. He had a "double coming out" to his parents, about leaving the priesthood and being gay, and they didn't talk to him for years. He bumped into priests he knew at cruising spots and various bathhouses, including one in a building owned by the Vatican. He said he went to drug-fueled parties at the Abbey of Montecassino, which traces its roots back to St. Benedict. He earned some money with private lessons in Latin and religion and some initial reporting jobs, but he felt lost.
In 2013, a Cardinal delivered a letter from Mr. Lepore explaining his situation to the newly elected Pope Francis (sic). In October, Mr. Lepore's phone rang, with Francis (sic) telling him he admired him for his "consistency" and "courage" in not living a double life, and that he wanted to help him with his economic travails, according to Mr. Lepore.
Ah, yes! Of course!
Guess where Msgr. Luigi Capozzi from the Black Mass/orgy was sent immediately after his arrest, for "prayer and penance"?
Yup. Montecassino.
Antipope Bergoglio sent Capozzi… to a functional clerical gay bathhouse/discotec. You know, for "PRAYER and PENANCE."
Folks, Capozzi was REWARDED.
How much more obvious can it be that these people are satanists? I mean, seriously.
To end on a more positive note, it has occurred to me that because the Covidic religion and its attendant rituals (masking, the DeathJab) are almost perfectly correlated amongst the clergy to sodomy, meaning sodomite priests and bishops are the most enthusiastic converts to the Covidic anti-religion, that we could be watching the Fatima Prophecy fulfillment right now before our very eyes. The Blessed Virgin has said that just when all seems lost, and there is no hope for the Church, her Immaculate Heart will triumph.
Folks, the infestation of sodomites in Rome, and in the clergy and ESPECIALLY the bishops and cardinals, seems impossible to purge because it is so thorough and entrenched. I strongly suspect that Pope Benedict attempted (and failed) to partially resign the Papacy primarily because of the overwhelming infiltration of sodomites in the Church. How could it possibly happen that in a short period of time the entire Church is purged and cleansed of the wretched demoniac wolves?
Well, might I hasten to remind you that all of those wretched demoniacs are, to a man, voluntarily having themselves injected with literal poison.
I might just be spitballing here, but it sure appears that some very, very big paradigms are lining up and coming together in ways that neither man nor angelic being could have engineered or anticipated.
God permits evils so that greater good can arise from it. I think it entirely possible that the DeathJab and the Covidic political religion putsch, the greatest crime against humanity ever executed, could ultimately do what was otherwise considered "impossible": cleanse the Church and the priesthood of sodomites, heretics and apostates. And they will literally have done it by their own choice and by their own hand.