Today is the feast of St. Polycarp.
"St. Polycarp was a disciple of the Apostle John, and was consecrated by him Bishop of Smyrna. He was reckoned the chief of all the Christians of Asia, because he had been taught by several of the Apostles, and other persons who had seen the Lord.
During the reign of the Emperor Antoninus Pius, and while Anicetus presided over the Church of Rome, Polycarp came thither to discuss some questions regarding the time for observing Easter. He found some heretics at Rome, who had been led astray by the doctrine of Marcion and Valentine, and brought back many of them to the faith.
One day Marcion met him by accident, and said to him: Do you recognise me? whereto he replied: I recognise the devil's eldest son.
Some time after, in the reign of Mark Antonine and Lucius Aurelius Commodus, during the fourth persecution since Nero, when the Pro-consul was ruling in Smyrna, the whole population being assembled in the theatre, clamoured against Polycarp, and to please them he was burnt. He wrote an extremely useful Epistle to the Philippians, which is publicly read in the Churches of Asia even to this day."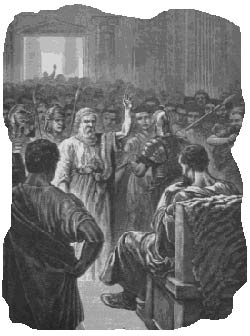 Roman Proconsul: "Then do this, old man. Just swear by the spirit of the emperor and that will be sufficient [to prevent your execution]."
St. Polycarp: "If you imagine for a moment that I would do that, then I think you pretend that you don't know who I am. Hear it plainly. I am a Christian."