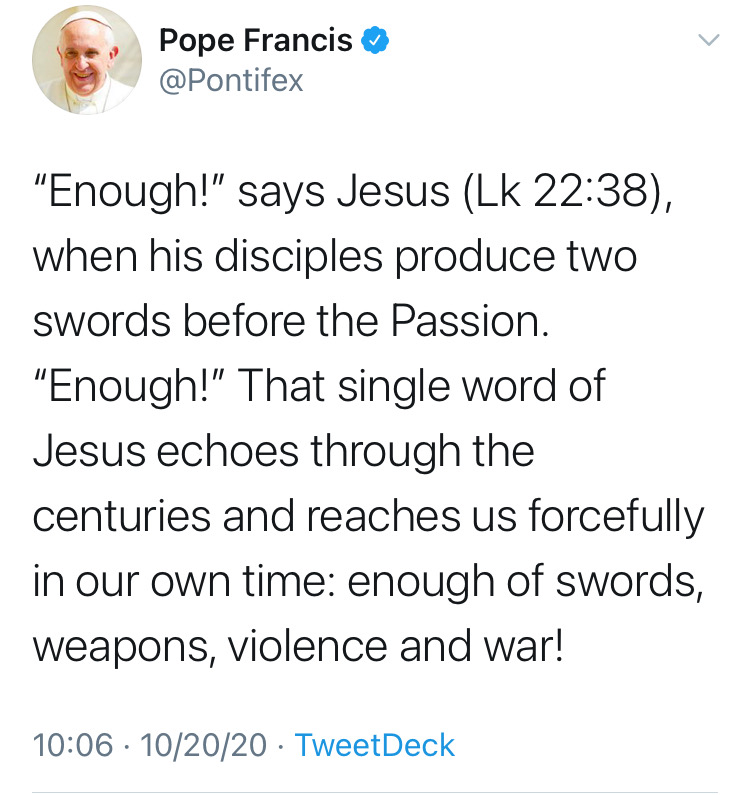 Abject lies.  Being told in order to avoid the justice they deserve, and in order to convince the world that fighting back against the Freemasonic One World CovidPoliticalReligion and Tyranny – this act of war and the greatest crime against humanity EVER PERPETRATED – is morally inadmissible.
Surrender your weapons and submit to the One World Government and enter the Antichurch.  Wear your Masonic Burqa to publicly demonstrate your conversion, submission and loyalty.  Fighting back is morally inadmissible, so just give up now.
The Apostles told Our Lord as they were getting ready to head out from the Upper Room to the Garden of Gethsemane that they had two swords among them, and Our Lord said, "It is enough."  IN THE AFFIRMATIVE.  Our Lord APPROVED THE QUANTITY and indicated that more swords would not be necessary – TWO WERE GOOD.  SATIS EST.
AFTER LITERALLY JUST TELLING THEM THAT IF THEY DIDN'T HAVE A SWORD, THEY SHOULD SELL THE CLOAK OFF THEIR BACK AND BUY A SWORD.
Evil, satanic liars, with their puppet frontman being an apostate criminal Antipope who is almost certainly the False Prophet Forerunner of the Antichrist, and certainly the visible head of the Antichurch, being constructed, occupying and eclipsing the same juridical, sacramental and liturgical space as the One True Church… for now.
[36] But they said: Nothing. Then said He unto them: But now he that hath a purse, let him take it, and likewise a scrip; and he that hath not, let him sell his coat, and buy a sword.
At illi dixerunt : Nihil. Dixit ergo eis : Sed nunc qui habet sacculum, tollat; similiter et peram : et qui non habet, vendat tunicam suam et emat gladium.

[37] For I say to you, that this that is written must yet be fulfilled in Me: And with the wicked was he reckoned. For the things concerning Me have an end.
Dico enim vobis, quoniam adhuc hoc quod scriptum est, oportet impleri in me : Et cum iniquis deputatus est. Etenim ea quae sunt de me finem habent.

[38] But they said: Lord, behold here are two swords. And He said to them, It is enough.
At illi dixerunt : Domine, ecce duo gladii hic. At ille dixit eis : Satis est.