Our Father, Who art in heaven, hallowed be Thy Name. Thy kingdom come. Thy will be done, on earth as it is in heaven. Give us this day our daily bread. And forgive us our trespasses, as we forgive those who trespass against us. And lead us not into temptation, but deliver us from evil.  Amen.
PATER NOSTER, qui es in caelis, sanctificetur nomen tuum. Adveniat regnum tuum. Fiat voluntas tua, sicut in caelo et in terra. Panem nostrum quotidianum da nobis hodie, et dimitte nobis debita nostra sicut et nos dimittimus debitoribus nostris. Et ne nos inducas in tentationem, sed libera nos a malo. Amen.
–**–
The following picture used to fill me with such happiness and fond memories.  Now it makes me sick, and my happy memories are all poisoned.  I am scandalized.  Woe to that man by whom the scandal cometh.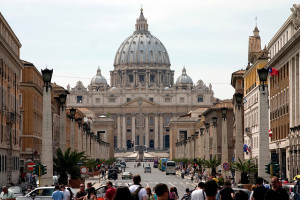 But he that shall scandalize one of these little ones that believe in Me, it were better for him that a millstone should be hanged about his neck, and that he should be drowned in the depth of the sea. Woe to the world because of scandals. For it must needs be that scandals come: but nevertheless woe to that man by whom the scandal cometh. 
-Matthew 18: 6-7