Our Father, Who art in heaven, hallowed be Thy Name. Thy kingdom come. Thy will be done, on earth as it is in heaven. Give us this day our daily bread. And forgive us our trespasses, as we forgive those who trespass against us. And lead us not into temptation, but deliver us from evil. Amen.
PATER NOSTER, qui es in caelis, sanctificetur nomen tuum. Adveniat regnum tuum. Fiat voluntas tua, sicut in caelo et in terra. Panem nostrum quotidianum da nobis hodie, et dimitte nobis debita nostra sicut et nos dimittimus debitoribus nostris. Et ne nos inducas in tentationem, sed libera nos a malo. Amen.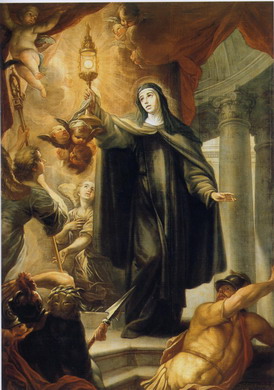 In the year ARSH 1240, the beautiful Italian noblewoman Clare of Assisi who had become a nun after hearing St. Francis preach, saved her convent and all the sisters therein from a massive hoard of musloid invaders – mercenaries from then-musloid Sicily paid by Emperor Frederick II to exert his control over the Italian peninsula.  How did she do it?  With the musloids putting ladders against the walls of the convent preparing to enter and… do what musloids do to women – can you imagine the abject terror the dear sisters and Clare must have felt? – brave Clare went to Our Lord and placed Him in a monstrance and then carried Him herself out to the walls, where she placed Him in view of the musloid mercenaries.  Clare and the sisters then fell down prostrate before Our Lord Jesus Christ, physically, substantially present in the Holy Eucharist, and prayed.  At this sight, a wave of fear crashed over the musloids and they dropped everything, turned, and fled.  The sisters and Assisi were saved.  It was a miracle.
St. Clare of Assisi, repeller of musloid hordes, pray for us.