Well, as much as I hate it, it's time to list some items on eBay again.  I think there might still be some hot beverage mugs remaining (trenchmouth included FREE!), but this time we're going back to the straight-up auction and my 100% Heterosexual Rainbow Whisk.
My eBay handle is 720ann.  My PayPal handle is my email address, [email protected] .
Thank you in advance for your consideration and extreme munificence.  Ann's estate liquidation is consecrated to the Infant Jesus of Prague.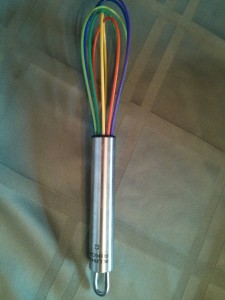 You are bidding on a whisk from the estate of Ann Barnhardt.  This whisk has its spindles coated in a silicone-plastic so that it will not scratch or harm your non-stick coated pots and pans.  The silicon coating on the spindles is in a beautiful and festive rainbow motif, which will remind you with every use of God's promise to never again drown us all in a monster flood, no matter how wretched and degenerated the human race becomes.  This is consoling.  Sadly for this excellent whisk, the rainbow motif has been recently coopted by the homosexualist movement.  This whisk wants you to know that it is 100% heterosexual and is not attracted to other whisks, but instead to cutlery, as is natural.  Many a night would I hear the soft, muffled sobs of this whisk, tucked safely in its compartment in my utencil drawer, "Why does everyone think I'm ….  Just because my spindles are rainbow-colored doesn't mean I'm…."   Fight the unjust coopting of the rainbow color motif by the homosexualists.  End a young rainbow whisk's pain.  Welcome it into your home.  But you have to promise that you won't keep it in the same compartment as the knives.  That would be scandalous. No reserve.  Payment by PayPal.  Free shipping.  Ann has Tridentine Masses said for her benefactors.