1. One sure way to know that you're on the right track is when the demons start attacking. For me, this is manifested mostly in my email box, which is a quite mild vector as those things go. But, you can always tell when the demoniacs are out and about. Today's example was extremely easy to spot, what with all of the satanic jargon and slogans, and the truly uncreative use of the "c" word. Before deleting it though, my eye happened to fall upon one line near the top that went something like this:
"What are you going to do? Pray to Baby J? LOL."
What an absolutely SPLENDID idea. Thank you.
I am happy to announce that the whole "estate liquidation" endeavor has now been consecrated to the Infant Jesus of Prague. Yay!
Long story short, Our Lord has seen fit to manifest Himself in ways particularly attached to a statue of Himself as an infant which resides in Prague. He wants us to love Him in every possible way, including as an infant. Why? Because babies are totally helpless and that helplessness reminds us of and points us to the Eucharist, wherein Our Lord is likewise totally helpless as He comes to us under the appearance of bread and wine. A Host, like the Baby Jesus (because a Host IS the Baby Jesus, remember), must be handled with exceeding tenderness and care, and can be dropped or otherwise mishandled at any time. And yet, despite this, God Almighty, for Whom all of creation is like less than a drop in the ocean to us, became incarnate and was a Baby, and comes to us on the altar, totally helpless and physically dependent in the Eucharist every day.
So, there's that, and then there's also the snuggling part. Baby Jesus just loves to snuggle. When we receive Him in the Eucharist, we are truly snuggling with God, as He settles right under our hearts and stays there for fifteen minutes or so. Show me a person who receives Holy Communion and the runs out the door and I'll show you someone who hasn't a CLUE what is going on, and probably has never heard word one about the Real Presence.
Thus, the statue of the Infant Jesus of Prague reminds people of the Baby Jesus (Who can easily be forgotten outside of Christmastime), and when people specifically call upon Our Lord in this way, miracles and extreme blessings tend to rain down. In fact, the Infant Jesus of Prague devotion is known to "keep us from all want".
I have said this before and I'll say it again. Satan and his minions are IMPOTENT. They can also be surprisingly obtuse, especially considering their angelic nature.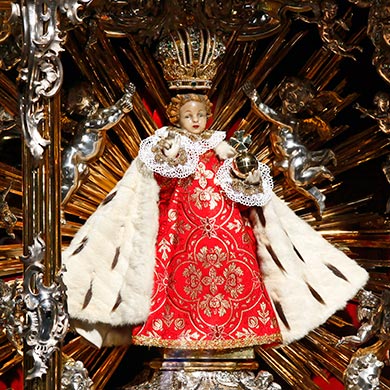 2. Which thus segues into the update on This entry was posted in Uncategorized on by Ann Barnhardt.
Bruce Jenner is a man. And furthermore I consider that islam must be destroyed.