† Our Father, who art in heaven, hallowed be thy Name. Thy kingdom come. THY WILL BE DONE, on earth as it is in heaven. Give us this day our daily bread. And FORGIVE US OUR TRESPASSES, as we forgive those who trespass against us. And lead us not into temptation, but DELIVER US FROM EVIL.
For Thine is the kingdom and the power and the glory, forever and ever. Amen †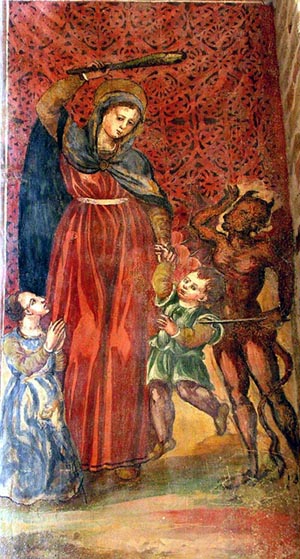 "Madonna del Soccorso". The Blessed Virgin Mary menacingly wielding an especially brutal and tactically intimate assault weapon, and in perfect intolerance of evil, preparing to lay an old-school billy club beat-down on a demon who is threatening her child, which is YOU. Your mother loves you.
When Jesus therefore had seen His mother and the disciple standing whom He loved, He saith to His mother: Woman, behold thy son. After that, He saith to the disciple: Behold thy mother. And from that hour, the disciple took her to his own.
John 19:26-27