The public deserves to know what killed SarahBeth Hartlage
by Nurse Claire
First, I want to begin by extending my deepest sympathies to the family, friends, and colleagues of SarahBeth Hartlage. The death of a 36-year-old mother is always tragic, regardless of the circumstances. Let us pray for the repose of her soul.
What I am about to write in this space may seem indifferent, uncaring, and even cold. But please make no mistake: I am writing these words in charity.
SarahBeth Hartlage was a 36-year-old anesthesiologist from Louisville, KY, and was an Assistant Professor of Anesthesiology & Perioperative Medicine at the University of Louisville until August 2020. In September 2020, she left the OR to take on her new role: interim medical director of the Louisville Department of Public Health & Wellness where she headed up "LouVax" – Louisville's COVID-19 vaccination program. She was so wildly successful at convincing the public to receive the DeathJab that she garnered national media attention from the likes of the New York Times, the Wall Street Journal, and Salon. According to her own social media pages & numerous articles highlighting her efforts, the COVID jab program she spearheaded delivered nearly 120,000 shots into the arms of Louisville residents. And, in usual fashion, SarahBeth's twitter page pushes the "safe & effective" narrative and features the typical COVID fear-mongering that is the mainstay of the ClotShot Cheerleaders.
But on Friday, collegues & associates of Dr. Hartlage were stunned to learn of her sudden & "unexpected" passing. I am certain that her family is suffering tremendously right now – she was the mother of a 6 year-old little girl with a congenital heart defect. My intention is not to disrespect their grief, but given the very public profile of this self-professed "vaccine queen", calling into question the possible causes of Dr. Hartlage's death is only reasonable. This physician deprived nearly 120,000 people of their right to informed consent. She trampled the Nuremberg Code. She favored vaccine mandates, supported the vaccination of children (including her own medically-fragile daughter), and expressed her annoyance that an EUA was not issued for children as young as 6 months.
The public has a right to know: what caused SarahBeth's death? And was she the victim of her own misinformation?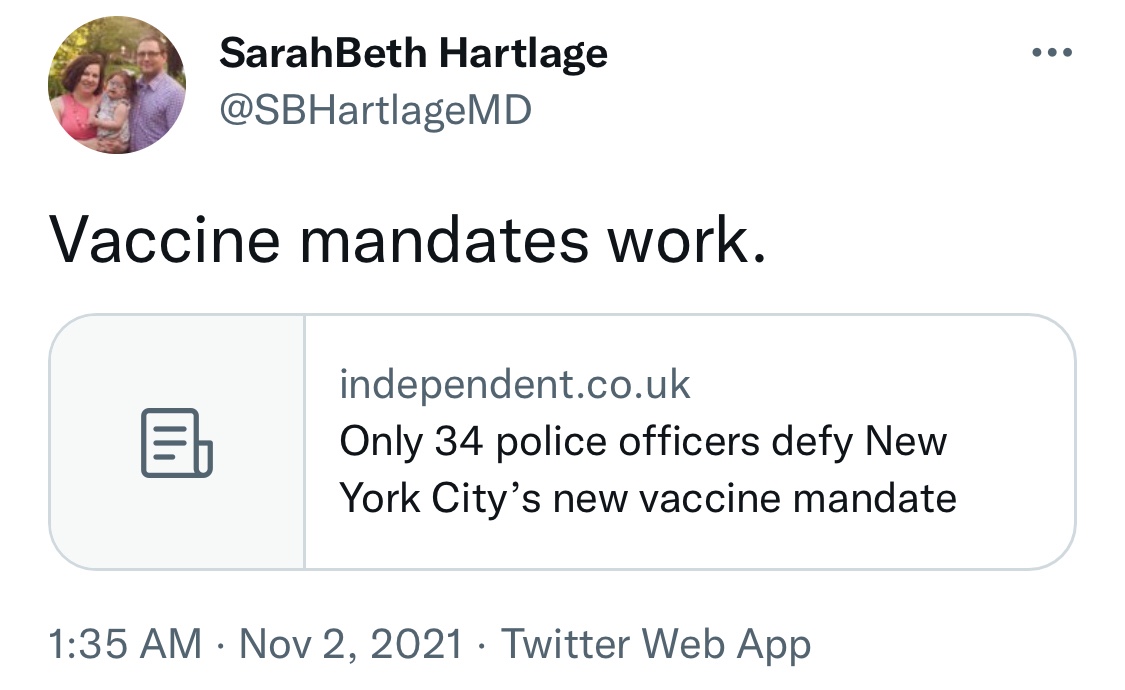 I got a little visit from the Pfizer fairy today! 🧚‍♀️

But seriously, SO excited to be able to get #CovidVaccines for kids 5-11 years old (including mine!) SOON!

FDA ✔
CDC committee ✔
Waiting on CDC director…

Expect to see these in the wild locally, no later than next week. pic.twitter.com/yb6MBHLoHV

— SarahBeth Hartlage (@SBHartlageMD) November 3, 2021