Our Father, Who art in heaven, hallowed be Thy Name. Thy kingdom come. Thy will be done, on earth as it is in heaven. Give us this day our daily bread. And forgive us our trespasses, as we forgive those who trespass against us. And lead us not into temptation, but deliver us from evil. Amen.
PATER NOSTER, qui es in caelis, sanctificetur nomen tuum. Adveniat regnum tuum. Fiat voluntas tua, sicut in caelo et in terra. Panem nostrum quotidianum da nobis hodie, et dimitte nobis debita nostra sicut et nos dimittimus debitoribus nostris. Et ne nos inducas in tentationem, sed libera nos a malo. Amen.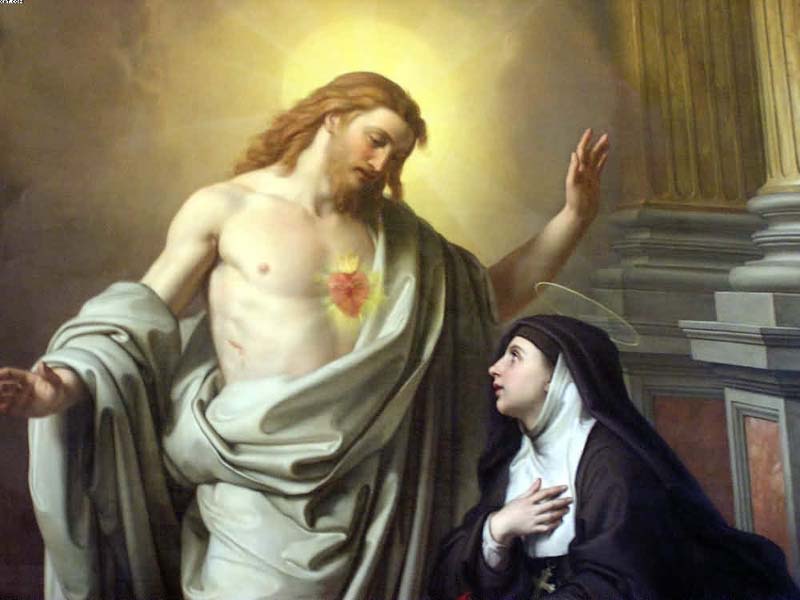 "And He [Christ] showed me that it was His great desire of being loved by men and of withdrawing them from the path of ruin that made Him form the design of manifesting His Heart to men, with all the treasures of love, of mercy, of grace, of sanctification and salvation which it contains, in order that those who desire to render Him and procure Him all the honour and love possible, might themselves be abundantly enriched with those divine treasures of which His heart is the source.
– from Revelations of Our Lord to St. Mary Margaret Alacoque
God Almighty wants you to love Him.