† Our Father, who art in heaven, hallowed be thy Name. Thy kingdom come. THY WILL BE DONE, on earth as it is in heaven. Give us this day our daily bread. And FORGIVE US OUR TRESPASSES, as we forgive those who trespass against us. And lead us not into temptation, but DELIVER US FROM EVIL.
For Thine is the kingdom and the power and the glory, forever and ever. Amen †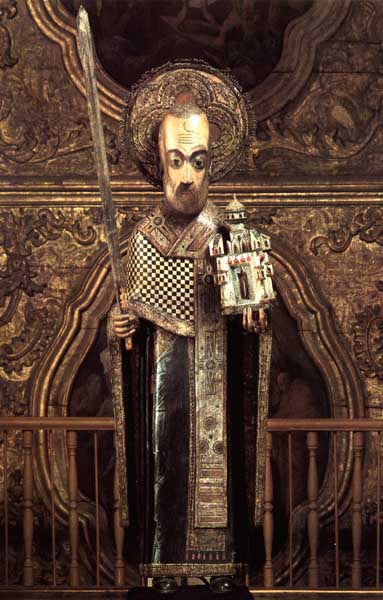 Wow. Look at this Russian statue of a saint holding a massive, enormous ASSAULT WEAPON. Goodness. Look at that thing! That could put someone's eye out! What if children saw this statue? Young boys could be turned into masculine wanna-be soldier nightmares, or something. Who is this person, wielding this ASSAULT WEAPON and scandalizing children?
Um, that's Santa Claus.
This is St. Nicholas Mozhaisky, who is the same person as St. Nicholas of Myra that punched the heretic Arius right in the piehole at the Council of Nicea, that we all know and love today under his Dutch moniker, Santa Claus.
In the 14th century, the city of Mozhaisk, Russia, which is just west of Moscow, was being invaded and besieged by a Mongol-Tartar army. The invading army was massive and the locals were outnumbered. The situation was all but hopeless. So, the people turned to prayer, begging God for a miracle, because a miracle was their only hope.
God answered them. St. Nicholas appeared as a massive vision in the sky holding an ENORMOUS, GLISTENING ASSAULT WEAPON in his right hand, and the city in his left – which is shown in the statue above.
Upon seeing Santa Claus above them manfully wielding his GINORMOUS, HUGANTIC ASSAULT WEAPON, the Mongol-Tartar army who had been guaranteed a total victory by their size and tactical dominance of the city of Mozhaisk, dropped everything, turned around and ran away as fast as their little Mongolian feets could carry them. Mozhaisk was saved.
HO.
HO.
HO.