† Our Father, who art in heaven, hallowed be thy Name. Thy kingdom come. THY WILL BE DONE, on earth as it is in heaven. Give us this day our daily bread. And FORGIVE US OUR TRESPASSES, as we forgive those who trespass against us. And lead us not into temptation, but DELIVER US FROM EVIL.
For Thine is the kingdom and the power and the glory, forever and ever. Amen †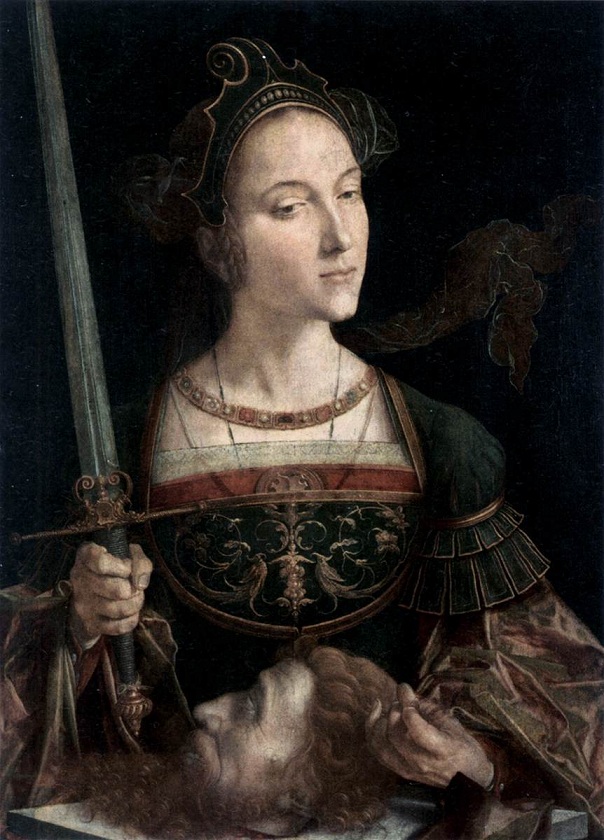 Meet the Old Testament heroine Judith, and her ASSAULT WEAPON, which believe you me, she knew exactly how to use. She's so awesome she got her very own book of the Bible. Never heard of it? Oh yeah. That's right. The book of Judith is one of the books that Herr Psychopath (Luther) decided to tear out of the Bible. But Judith is all over the place in Christian theology, liturgy and art. She is one of the most popular subjects in Christian art. Everyone who was anyone painted or sculpted Judith back in the day.
The book of Judith is all about how the beautiful and courageous widow Judith had put up with just about enough of the invading Assyrians, and was thoroughly disgusted with the "roll over and take it" attitude of her fellow Israelites.
IS THIS SOUNDING THE LEAST BIT FAMILIAR???
So, she ingratiated herself to the Assyrian general Holofernes, and then one night, when he was passed out drunk, she crept into his tent and sawed his head off. When the Israelite men saw the severed head of Holofernes, they rallied and attacked the then-leaderless Assyrians who promptly dispersed, and thus Israel survived.
Hey, desperate times, desperate measures. If she would have had access to an AR, I am quite certain she would have preferred to have just put a round of .223 into Holofernes' brain stem and called it good. But, there were no ARs in the seventh century before Christ, so a chick's gotta roll up her sleeves and do what a chick's gotta do.
ESPECIALLY WHEN ALL OF THE MEN ARE CURLED UP IN THE FETAL POSITION, PEEING ALL OVER THEMSELVES, AND SOBBING LIKE LITTLE GIRLS.
Cruise over to This entry was posted in Uncategorized on by Ann Barnhardt.
Bruce Jenner is a man. And furthermore I consider that islam must be destroyed.