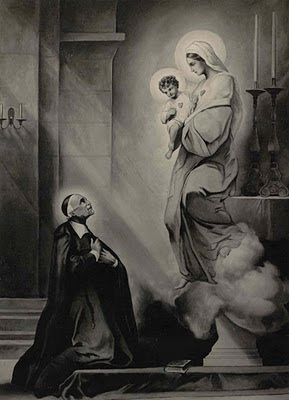 St. John Eudes will always be a favorite because he has one of the most informative and explicatory quotes about what is happening to us, the Church and the world. He simply and directly answers the question, "My God, why is this happening?":
"The most evident mark of God's anger, and the most terrible castigation He can inflict upon the world, is manifest when He permits His people to fall into the hands of a clergy who are more in name than in deed, priests who practice the cruelty of ravening wolves rather than the charity and affection of devoted shepherds. They abandon the things of God to devote themselves to the things of the world and, in their saintly calling of holiness, they spend their time in profane and worldly pursuits. When God permits such things, it is a very positive proof that He is thoroughly angry with His people and is visiting His most dreadful wrath upon them."
–Saint John Eudes
Only truly malignant and totally blind narcissists could possibly claim that "I dindu nuffin to deserve this!" Oh, every one of us is guilty to one degree or another. Remember the ways that one can be complicit in sin:
1. By counsel (to give advice, one's opinion or instructions.)
2. By command (to demand, to order, such as in the military.)
3. By consent (to give permission, to approve, to agree to.)
4. By provocation (to dare.)
5. By praise or flattery (to cheer, to applaud, to commend.)
6. By concealment (to hide the action, to cover-up.)
7. By partaking (to take part, to participate.)
8. By silence (by playing dumb, by remaining quiet.)
9. By defense of the ill done (to justify, to argue in favour.)
(Note: To participate in the sins of another person means that one is just as guilty of the sin as the one who committed them. For example, if you encourage someone to have an abortion, you are guilty of the sin of abortion.)
Always beware the man who refuses to say those three little words: mea maxima culpa. Beware the man who declares that Jesus Christ and His Holy Catholic Church aren't worthy of his presence, thus inverting the Domine non sum dignus into "Lord, You are not worthy to enter under my roof…" Talk about total, satanic inversion….
Here is another quote from St. John Eudes on the effect of our sins on Our Lord's Sacred Heart. Read it well.
The first cause of those most painful Wounds in the Sacred Heart of Our Redeemer is our sins. We read in the life of Saint Catherine of Genoa that one day God let her see the horror of one tiny venial sin. She assures us that, although this vision lasted but a moment, she saw nevertheless an object so frightening that the blood froze in her veins and she swooned away in an agony that would have killed her if God had not preserved her to relate to others what she had seen. Wherefore she declared that if she were in the very depths of a sea of flaming fire and it were in her power to be set free, on condition that she should once more behold such a spectacle, she would choose to remain rather than to escape. If the sight of the smallest venial sin brought this saint to such a pass, what must we think of the state to which Our Saviour was reduced by seeing all the sins of the universe? He had them continually before His Eyes, and His vision being infinitely more powerful than that of Saint Catherine, He could behold infinitely more horror.

He saw the immeasurable insult and dishonour it caused His Father; He saw the damnation of a countless number of souls resulting from those sins. As He had infinite love for His Father and His creatures, the sight of all those sins rent His Heart with countless Wounds, such that if we were able to count all the sins of men, which are more numerous than the drops of water in the sea, we would then be able to count the Wounds of the loving Heart of Jesus.

The second cause of His Wounds is the infinite love of His Sacred Heart for all of His children, and His constant vision of all the afflictions and sufferings that are to happen to them, especially all the torments that His holy martyrs are to suffer. When a mother watches her beloved child suffering, she feels the pain more keenly than the child. Our Saviour's love for us is so tremendous that if the love of all parents were centred in a single heart, it would not represent even a spark of the love for us that burns in His Heart. Our pains and sorrows, ever present to His vision and seen most clearly and distinctly, were so many Wounds bleeding in His paternal Heart. These Wounds were so painful and deep that they would have caused His death a thousand times over, even immediately after His birth, if He had not miraculously preserved Himself, because during His whole earthly life His Sacred Heart was continually pierced by many mortal Wounds of love.

Therefore we have the greatest obligation to honour the gracious Heart that sustained so many Wounds of love for us. With what affection should we embrace, and endure all our afflictions, out of love for Jesus, our Saviour, since He first bore them for love of us! Should they not be most sweet to us, since they have already passed through His most gentle and loving Heart? What a horror we should have of our sins that have caused so many Wounds and such intense grief to the divine Heart of our Redeemer!

Let us learn from the foregoing example that

it is not our Redeemer's fault if we are lost

. There are hearts so hard that, even if Jesus Himself were to come down from heaven to preach to them and they were to see Him covered with Wounds and bathed in His Blood, they would still not be converted.

O my God, let us not be one of them, but give us the grace to open our ears to the voice of all the sacred Wounds of Your Body and Your Heart, which are so many mouths through which You call us unceasingly: 'Redite, prævaricatores, ad cor — Return, transgressors, to the heart', which means to My Heart that is all yours, since I have given it entirely to you. Return to that most loving Heart of your Father, which is full of love and mercy for you, which will receive you home, heaping upon you blessings.