A few nights ago, I was cleaning our guest bedroom that houses our books. My sister, who is in the process of converting to the Faith, has developed a devotion to Our Lady under the title 'Star of the Sea', so when I spotted a book I had on Marian titles, I grabbed it off the shelf to sit down with later when I had finished cleaning. Perhaps it would yield some information I could share with her.
I'd never really looked at this book before, strangely. It seems to be written by the non-Catholic Christine Barrely, with an emphasis on its pictures of antique Marian prayer cards that don't match up to the descriptions of the titles. Basically, it seems to be meant as a coffee table book. But as I was flipping through its pages, the word 'pachamama' jumped out like live embers.
This strange little book has two references to an apparition of Our Lady of Copacabana, which occurred above Lake Titicaca in Bolivia in the sixteenth century, and how she was a divine response to the local Incan population's pagan idol worship of Pachamama (Barrely, pgs. 122, 148), referred to for the rest of this essay by me as pachademon.
We were all horrified in October of 2019 at the strange pagan idol worship of pachademon we saw first in the Vatican Gardens, and secondly on the high altar of Saint Peter's itself. Hold onto your hats, because it's all about to get worse.
Our Lady of Copacabana, also referred to as Our Lady of Lake Titicaca, Our Lady of Candlemas or La Virgen de la Candelaria (as the apparition was on February 2, the Feast of Candlemas) appeared because the local population was worshipping the pachademon. On page six of this cringe-y undergrad's 'feminist' thesis from 2017 on the 'syncretism' of pachademon and Our Lady, it interestingly notes, "…the drought and starvation suffered by the people of Copacabana, even though they gave offerings to their assigned patron, Saint Ann. But Saint Ann did not behave like a good mother; she did not reciprocate. Therefore, the people turned to a family member who would reciprocate, Pachamama in syncretism with the Virgin Mary."
In researching Our Lady of Copacabana, you will find many such cringe-y attempts to conflate her with pachademon, written by non-Catholics with a patriarchal axe to grind. So basically it seems that Our Lady showed up to finally convert the local population after seeing that her own mother was being ignored as the early patron of the area assigned by the Jesuit priests.
In his book Inca Religion and Customs, early-colonial Spanish Jesuit missionary to the area, Fr. Bernabe Cobo, observed the Andean and Incan worship practices of Pachamama and chronicled '…in and around Copacabana long stone altars to Pachamama were erected in every agricultural field:They all worshiped the Earth also, and they called her Pachamama . . . And it was their custom to put a long stone in the middle of their fields . . . as an altar in honor of this goddess. They would pray to her before this altar stone, call upon her, and ask her to protect their (fields) and make them fertile. The more fertile a field was, the better." (Cobo, pg. 34)
After the miraculous appearance of Our Lady of Copacabana to stop this pagan worship, a grand basilica was built there in her honor. A miraculous statue of her was even created by amateur sculptor Francisco Tito Yupanquit. on August 1, 1925 during the Papal visit of Pope Pius XI to Bolivia, the image of the Virgin of Copacabana was blessed and granted a canonical coronation. She is also the official Marian Patroness of Bolivia.
In other words, basically every decent Catholic in South America knows who she is and why she appeared.
October 7, 2019 Antipope Bergoglio presided over the idol worship of the pachademon statue in the Vatican Gardens. He knew what she was, and he absolutely has to know who Our Lady of Copacabana was, because he is South American, and because in 2017 a LARGE PERMANENT MOSAIC AND CEREMONIAL STATUE OF OUR LADY OF COPACABANA was placed in the very Vatican Gardens he later presided over during demon worship.
Don't tell me a South American 'pope' wasn't informed when that was done well into his 'pontificate'. Odd that he did not attend, no? Is that why the first idolatrous ceremony two years afterwards was done in the gardens in front of that very mosaic of Our Lady of Copacabana, in true diabolical narcissist fashion? Shame on every single person in this video, particularly the bishops, for not speaking up in dramatic fashion when this sacrilege occured.
Oh, and the scandal obliquely referred to by the Bishop in the video that needed 'dialogue' to solve was this lovely story of local civil authorities and bishops blaming each other for vandalizing the jewels on the original statue of Our Lady of Copacabana at her namesake basilica. Whoops.
On October 27th, 2019 the creepy plant offering to Pachamama was placed on the high altar of Saint Peter's. Coincidentally, this all occurred right before the first news of (rhymes with Smo-vid) appeared, as Ann has pointed out in this space before.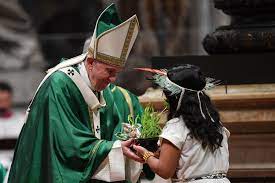 This is demonic, this is scandalizing.
I think of how many bishops and cardinals from South America knew this. Or any bishop or cardinal who had been to the Basilica in Bolivia, or ministered to the faithful from Bolivia, or simply had read a basic Catholic history of South America. I cringe for the good Catholics of South America who must have watched with their jaws dropped as this antipope luxuriated in pagan idol worship. I think of the mainstream Catholic outlets, the LAZY, corrupt mainstream Catholic outlets who could have found out what I did with basic research in speaking to the people of South America to find out what this demon was, and if there was ANY Catholic antidote to it.
In any other era of the Church, Francis would have been immediately rebuked and reprimanded by his brother Bishops, and lost the Chair of Peter for idol worship in gross violation of the First Commandment (IF he already didn't deserve to lose it due to Pope Benedict's invalid resignation).
Let us not forget that several high-profile traditional Catholic Bishops walked by Santa Maria in Transpontina, the church that the pachamama demon statue was held in, on their way to promote a book one of them had written. I leave the revealing of those names to your own research. Not one stopped to storm into the holy place, take the statue and throw it into the Tiber. It took a twenty-something year-old Austrian man financed by a popular American Catholic Youtuber to do so.
Up until that point, we did not know the demon's name here in the West. The first time we saw it mentioned was by Antipope Bergoglio himself, rebuking the young Austrian man and identifying the statue 'pachamama' (h/t to Mark Docherty for this reminder).
Mainstream Catholic outlets rushed to Francis' defense, attempting to excuse that he 'didn't know', or that 'it's a representation of Our Lady'. He knew, and no, it is not.
It seems very clear that this was an Anti-Marian consecration of sorts to usher in the Great Reset.
And lest we get forgetful in this world of fast-paced, gas-lighting news stories it was revealed earlier this month that a pachademon monstrance is being used in Mexico.
We are in very, very dark times.
I plan on praying a nine day Rosary novena to Our Lady of Copacabana starting on July 28 and ending on August 5, her Feast Day, pleading for her intercession and in reparation for Antipope Bergoglio's knowing and intentional sacrilege. I also encourage any priests reading this to offer Mass that day for the same intentions.
Our Lady of Copacabana, ora pro nobis!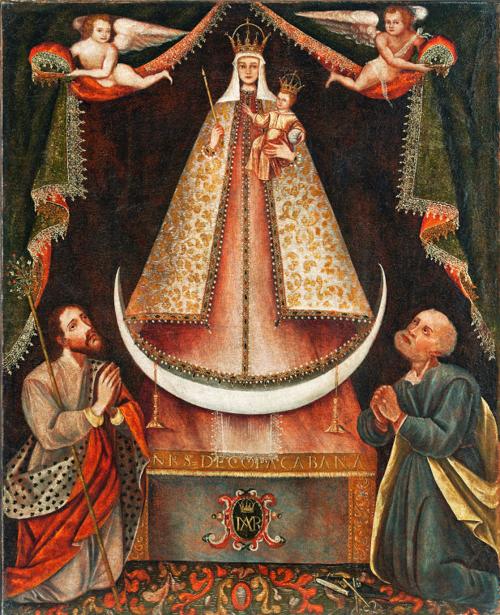 *Vanessa is the nom de guerre of a Trad wife and mother in North America.