Our Father, Who art in heaven, hallowed be Thy Name. Thy kingdom come. Thy will be done, on earth as it is in heaven. Give us this day our daily bread. And forgive us our trespasses, as we forgive those who trespass against us. And lead us not into temptation, but deliver us from evil. Amen.
PATER NOSTER, qui es in caelis, sanctificetur nomen tuum. Adveniat regnum tuum. Fiat voluntas tua, sicut in caelo et in terra. Panem nostrum quotidianum da nobis hodie, et dimitte nobis debita nostra sicut et nos dimittimus debitoribus nostris. Et ne nos inducas in tentationem, sed libera nos a malo. Amen.
I recently came across Da Vinci's Annunciation and must admit that I was quite struck by the Archangel Gabriel.  I have spoken before about the notion of "Ferocious Love".  This comes from C.S. Lewis in Perelandra:
"Pure, spiritual, intellectual love shot from their faces like barbed lightning. It was so unlike the love we experience that its expression could easily be mistaken for ferocity."
As I zoomed in and looked closer at Gabriel's countenance, I saw exactly that – "ferocious" love.  He is kneeling, bowing, honoring and blessing her – Gabriel loves Our Lady.  But look – LOOK at his face.  Look at his eyes.  Oh my.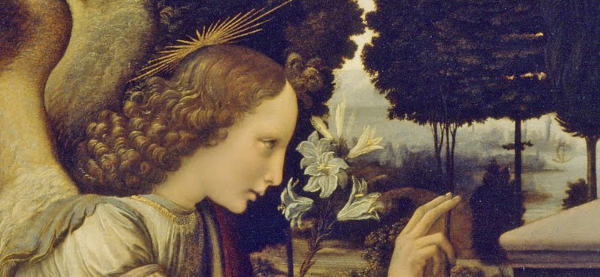 Man, that's what I want to be when I grow up.  I'm so not doing it right yet, though.  I just come off as crazy.  Oh well.  I shall keep trying.  Maybe someday I'll get it just right.